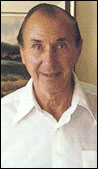 W. Phillip Keller (1920-1997) spent his life traveling the globe, marveling at Godís creation, and writing over thirty-five books on Christian subjects, the most famous of which is A Shepherd Looks at Psalm 23. Born in Kenya to missionary parents, Keller spent the early years of his childhood heartily enjoying what he calls "the rather rough, tough frontier world of East Africa." Then, at the age of 8, he was abruptly sent away to a strict, religious boarding schooló250 miles away from his family.When his father died, Phillip (still a teenager) was devastated. As he grew older, he withdrew far into himself.
As an adult, he left Africa and wandered far from the God his father and mother had served. The inspiring, joyful story of how he returned is woven into his many beloved autobiographical and devotional books.
A Canadian citizen, Phillip settled in British Columbia with his wife, Ursula, where they stayed until Phillip's death in 1997.

A Shepherd Looks at Psalm 23 (2007) | paperback | large-print edition

Touched by His Hand, 4-in-1 As the Tree Grows, Still Waters, Sea Edge & Sky Edge (2005)

What Makes Life Worth Living (2003)

Rabboni: Which is to Say, Master (1998)

Triumph Against Trouble (1996)

What is the Father Like (1996)

Joshua: Mighty Warrior & Man of Faith (1992)

God is My Delight (1991)

A Layman Looks at the Lord's Prayer (1976)

Lessons from a Sheep Dog: A True Story of Transforming Love

Phillip Keller: The Inspirational Writings (2004)

NEW OR USED FROM AMAZON:

Walking with God: Wholeness and Holiness for Common Christians (1998)

His Way to Pray: A Devotional Study of Prayer (1997)

The Shepherd Trilogy: A Shepherd Looks at Psalm 23, the Good Shepherd, and the Lamb of God (1996)

Triumph Against Trouble: Finding God's Power in Life's Problems (1996)

Outdoor Moments with God (1994)

Wonder O' the Wind: A Common Man's Quest for God (1993)

Pleasures for Evermore (1993)

A Gardener Looks at the Fruits of the Spirit (1987)

David the Shepherd King II (1986)

David I: The Time of Saul's Tyranny (1985)

Thank You, Father!: W. Phillip Keller Reflects on His Walk With God (1990)

Elijah, Prophet of Power (1980)

As a Tree Grows: Reflections on Growing in the Image of Christ (1966)

A Child's Look at the Twenty-Third Psalm (1981)

A Layman Looks at the Lamb of God (1982)

Predators in Our Pulpits: A Compelling Call to Follow Christ With Unswerving Sacrifice (1988)

The High Cost of Holiness (1991)

The Lord is My Shepherd (2003)

Mighty Man of Valor: Gideon, the Sword of the Lord (ZZZZ)

The Classic Works of Phillip Keller -- Abridged (1998)

The Way of the Shepherd (1994)

Strength of Soul: The Sacred Use of Time (1993)

Sky Edge: Mountain Meditations (1992)

Serenity: Finding God Again for the First Time (1992)

The Secret of His Presence (1989)

Sea Edge/Sky Edge (Two-in-One Special Edition) (1988)

A Layman Looks At The Love of God and Only A Prayer Away (1985)

Ocean Glory (1984)

A Layman Looks at the Love of God: Devotional Study of 1 Corinthians 13 (1984)

Bold Under God (1983)

Taming Tension (1981)

On Wilderness Trails (1980)

Still Waters (1980)

Mountain splendor: This is my Father's world (1978)

A Shepherd Looks at the Good Shepherd and His Sheep (1978)

Charles Bowen: "Paul Bunyan" of the Canadian West (1976)

A fond look at a frontier preacher

Hawaiian Interlude (1973)

Travels of the Tortoise (1971)

Under Desert Skies (1970)

Splendour from the Sea: The Saga of the Shantymen (1966)

Expendable! With God on the prairies: The ministry of Prairie Bible Institute, Three Hills, Alberta, Canada (1966)

Splendour From the Land (1963)

Canada's Wild Glory (1961)

Africa's Wild Glory (1959)

[TOP]

Return to Recommended Authors

HOME Newsletter Shallows Depths Studylinks DS Bookstore
About DS Contact DS
© 2007 DeeperStudy.com | Steve Singleton, All Rights Reserved