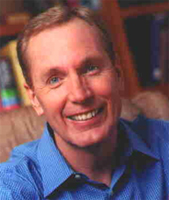 Max Lucado was born in San Angelo, Texas. He earned his BA in Mass Communications and his MA in Bible and Related Studies, both at Abilene Christian University, Abilene, Texas. He served as an associate minister at the Central Church of Christ in Miami, Florida, and as a church-planting missionary in Rio de Janeiro, Brazil. He currently serves as senior minister at the Oak Hills Church in San Antonio, Texas.
Lucado has touched millions with his signature storytelling writing style. Max is the first author to win the Gold Medallion Christian Book of the Year three times. In 2005, Reader's Digest dubbed him "America's Best Preacher." In addition, he has been an ECPA Gold Medallion finalist with more titles than any other author in the industry. He has also authored a number of award-winning children's books.
Lucado has received criticism for tolerating and later endorsing "the sinner's prayer" as the means by which one accepts Christ. This is contrary to the teaching of Scripture, which definitely includes water baptism within the meaning of saving faith (see Galatians 3:26-27; Colossians 2:12-13). For more on this and other issues, see F. LaGard Smith's book, Who is My Brother?
Alabaster's Song (Padded Board Book with DVD) (2005)
Because I Love You! (2000)
A Bug Collection: Four Stories from the Garden (2007)
The Christmas Child/The Christmas Troll CD
Coming Home (2007)
The Crippled Lamb (DVD) (2003) | Padded Board Book with DVD (2005)
Every Day Deserves a Chance: Wake Up to the Gift of 24 Little Hours (2007) | Unabridged CD (2007)
Facing Your Giants (Teen Edition) (2007)
God Thinks You're Wonderful, Mom (with Chris Shea) (2008)
A Hat for Ivan (2004)
It's Not About Me (Teen Edition) (2005)
Jacob's Gift (Padded Board Book with CD) (2005)
Just in Case Your Ever Wonder (1992)
Just the Way You Are (1999)
Max Lucado's Children's Treasury: A Child's First Collection (2007) | DVD Boxed Set (2007)
The Oak Inside the Acorn (2006)
Small Gift in God's Hands (2000)
Splash: A 6-Week Curriculum for Kids (2006)
The Straight Path (2005)
Tell Me the Secrets (2004)
3:16: The Code of Your Life (Elementary Edition) (2007) | 3:16: God's Great Big Love for Me (Preschool Edition) (2008)
The Ultimate Bible Story DVD Collection
The Way Home: A Princess Story (2005)
Tell Me the Story (2005)
Hermie & Friends – 1: Hermie, A Common Caterpillar (DVD) | 2: Flo the Flyin' Fly (DVD) | 3: Webster, the Scary Spider (DVD) | 4: Buzby, the Misbehaving Bee (DVD) | 5: A Fruitcake Christmas (DVD) | 6: Stanley the Stinkbug (DVD) | 7: To Share or Nut to Share (DVD) | 8: Milo: The Mantis Who Wouldn't Pray (DVD) | 9: Buzby & the Grumble Bees (DVD) |Buzby & Grumble Bees (Book & CD) (2007) | The 12 Bugs of Christmas (board book & DVD) (2004) | Scripture Memory Songs Christmas CD (2006) | 9 vols. DVDs | vols. 1-4 (on VHS) (2004) |
Max Lucado's Wemmicks – You Are Special (Picture Book) (1997) | You Are Mine; A Gift for Everyone (2003) | Your Special Gift (2006) | If Only I Had a Green Nose (Picture Book) (2002) | Best of All (2003) | The Wemmicks DVD Collection (2007) | 4: Punchinello & the Most Marvelous Gift (DVD) (2004) | Wemmicks DVD Collection (2007) [TOP]
Return to Recommended Authors

HOME Newsletter Shallows Depths Studylinks DS Bookstore
About DS Contact DS
© 2007 DeeperStudy.com | Steve Singleton, All Rights Reserved