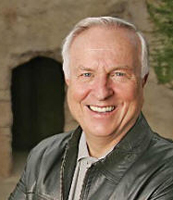 Josh McDowell (1939- ) was as an agnostic at college when he decided to prepare a paper that would examine the historical evidence of the Christian faith in order to disprove it. However, he converted to Christianity, after finding evidence for it, not against it. He subsequently earned his BA from Wheaton College and his MDiv at Talbot Theological Seminary of Biola University.
In 1964, McDowell became a traveling representative of Campus Crusade for Christ and has continued a close association with the organization ever since. McDowell's full-time ministry with Campus Crusade for Christ began with his appointment as a campus speaker in Latin America, where he interacted with both Marxist and Fascist student groups. He subsequently returned to North America where he rose to prominence as an itinerant speaker addressing campus groups about the Christian faith.
Part of his speaking ministry has focused on youth issues in relationships and sexual mores, and is reflected in seminars such as "Maximum Sex" and the "Why Wait?" campaign that encourages sexual abstinence before marriage. Other facets of his speaking ministry and writing have focused on issues of self-esteem and developing faith and character.
McDowell is best known for his many seminars, debates and books in Christian apologetics. In his role as a popular apologist McDowell has spoken across the United States, and in many other nations including the Republic of South Africa and Australia.
Other foci of his apologetics have included challenging the methodology, assumptions and conclusions drawn in higher criticism of the Old Testament and form and redaction criticism of the gospels. His work in this area has consisted of a popular summarization of scholarly debate, particularly from Evangelical discussions about higher critical theories.
McDowell and Ed Stewart have also popularized the arguments of other apologists in the Christian countercult movement, particularly the work of Walter Martin, in the Handbook of Today's Religions. In their criticisms of cults and occult beliefs McDowell and Stewart concentrate on doctrinal apologetic questions, especially pertaining to the deity of Christ, and pointing out heretical beliefs in the non-orthodox religious groups they profile. --Adapted from Wikipedia
Belief Matters - Video Curriculum (2003)
Beyond Belief to Convictions (with Bob Hostetler) (2002) |
Beyond Belief: The Revolt Leaders Guide (Junior High/High School) (2003) | Beyond Belief: The Revolt Workbook (Junior High/High School) (2003) | Beyond Belief: True or False Leaders Guide (for Both Younger and Older Workbooks) (2003) | Beyond Belief: True or False Workbook for Younger Children (grades 1-3) (2003) | The Revolt VHS/DVD Curriculum (2003) |
Beyond Belief/Belief Matters Leaders Guide (Adult Edition) (2003) | Beyond Belief/Belief Matters Workbook (Adult Edition) (2003) |
Christ Up Close and Personal (DVD) (2006) | Complete 13-session Adult Group Course (DVD) (2006)
Deceivers TP (Powerline Chronicles Series with Bob Hostetler) (2006)
The Disconnected Generation (2000)
Don't Check Your Brains at the Door: Know What Your Believe and Why (with Bob Hostetler) (1992)
Evidence for Christianity: Historical Evidences for the Christian Faith (2006)
The Father Connection: 10 Qualities of the Heart That Empower Your Children to Make Right Choices (1996)
Finding True Love: Interactive Discovery Book & Journal (2000)
Givers, Takers, and Other Kinds of Lovers (with Paul Lewis) (2007)
The Great Treasure Quest: Discovering the Purpose of the Bible (2006)
Guide to Understanding Your Bible: An Effective Method for Unlocking the Living Truth (2006)
Handbook of Today's Religions (1993)
In Search of Truth (pack of 25 tracts) (2005)
Jesus: Fact or Fiction? (DVD) (2003)
Josh McDowell Pack (2 vols.) (2003)
The Last Christian Generation: The Crisis is Real, The Responsibility is Ours (2006)
Mistaken Identity (novel with Ed Stewart) (2005)
More Than a Carpenter (1977)
More Than a Carpenter Today (Audio Book with CD) (2006)

New Evidence That Demands a Verdict: Fully Updated to Answer the Questions Challenging Christians Today (1999)
The New Tolerance: How a Cultural Movement Threatens to Destroy You, Your Faith, and Your Children (1998)
A Ready Defense (1990)
Reasons for Faith: Making a Case for the Christian Faith (with Mark Mittelberg and John Warwick Montgomery) (2007)
The Relational Word: A Biblical Design to Reclaim and Transform the Next Generation (2006)
Setting You Free to Make Right Choices (1995)
The Teenage Question and Answer Book (with Bill Jones) (1990)
The Truth Twisters (novel with Bob Hostetler) (2006)
Truth Works: Making Right Choices (1995) | Truth Works: Making Right Choices Leaders Guide (1995) | Truth Works: Making Right Choices (grades 4-6) (1995)
Understanding the Occult (Audio Book on Casette)
Vote of Intolerance (novel with Ed Stewart) (1997)
Why True Love Waits: The Definitive Book on How to Help Your Kids Resist Sexual Pressure
NEW OR USED FROM AMAZON:
American Idols: The Worship of the American Dream (2006)
Answers to Tough Questions Skeptics Ask About the Christian Faith (1986)
Building Your Self-Image (1986)
Children Demand a Verdict: Answering Questions about What We Believe and Why We Believe It (2006)
Daniel in the Critics' Den: Historical Evidence for the Authenticity of the Book of Daniel (1979)
The Davinci Code: A Quest For Answers (2006)
Evidence That Demands a Verdict, Vol. 1 (1972)
Evidence That Demands a Verdict, Vol. 2 (1999)
Friendship 911 Helping Friends Who Struggle With Life's Toughest Issues (2000)
Handbook on Counseling Youth: A Compehensive Guide for Equipping Youth Workers, Pastors, Teachers, Parents (1996)
His Image, My Image (1993)
How to Be a Hero to Your Kids (with Dick Day) (1993)
In Search of Certainty (Beyond Belief Campaign) (2003)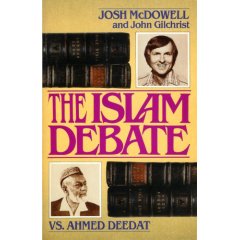 Islam Debate: Josh McDowell vs. Ahmed Deedat (1983)
Jesus: A Biblical Defense of His Deity (with Bart Larson) (1983)
Josh McDowell's Guide to Understanding Your Bible: A Simple, Step-by-step Method for Effective Bible Study And Life Application (2006)
The Love Killer: Answering Why True Love Waits (with Bob Hostetler) (2002)
Mistaken Identity with Ed Stewart) (2005)
More Evidence That Demands a Verdict (1975)
Reasons Skeptics Should Consider Christianity (1986)
Right from Wrong: What You Need to Know to Help Youth Make Right Choices (1994)
See Yourself as God Sees You (1999)
The Secret of Loving (1987)
True or False Workbook: older children (Beyond Belief Campaign) (2003)
Under Siege (Powerlink Chronicles, with Ed Stewart and Chuck Klein) (1992)
Why Wait? What You Need to Know About the Teen Sexuality Crisis (with Dick Day) (1994) [TOP]
Return to Recommended Authors

HOME Newsletter Shallows Depths Studylinks DS Bookstore
About DS Contact DS
© 2007 DeeperStudy.com | Steve Singleton, All Rights Reserved