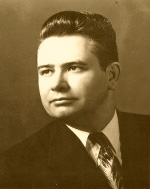 Dale Moody (1915-1992) was born in Stanford, Texas. Beginning to preach at sixteen years of age, Moody pastored his first church, Coppell Baptist, the following year. In 1933, he entered Baylor University to study New Testament. Moody gained his B.A. from Baylor and his Th.M. after studies at Chafer (now Dallas) and Southern Baptist Theological Seminaries.
After serving for three years as a teaching assistant for Paul Tillich at Union Seminary in New York, Moody returned to Southern in 1947 and received his Th.D. after finishing his dissertation on "The Problem of Revelation and Reason in the Writings of Emil Brunner." Moody later studied with such notable theologians as Brunner, Karl Barth, and Oscar Cullman. He also received a D.Phil. from Oxford for studies that produced a dissertation on baptism.
Moody taught at Southern from 1948 to 1984. He taught a wide variety of courses in theology. At one point, his pedagogical responsibilities included systematic theology, Old Testament theology, New Testament theology, historical theology, and philosophy of religion. Moody wrote avidly. His urging of Southern to change the Abstract of Principles and conflicts with Southern Baptists on the issue of apostasy led to his early retirement in 1983. Moody passed away in 1992.

Apostasy: A Study in the Epistle to the Hebrews & in Baptist History (1991)