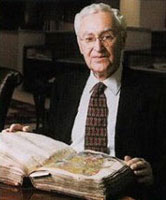 Bruce M. Metzger (1914-2007) was a professor emeritus at Princeton Theological Seminary and Bible editor who served on the board of the American Bible Society. He was a world-class scholar of Greek, New Testament and Old Testament Bible, and wrote prolifically on these subjects.
Metzger was born in Middletown, Pennsylvania in 1914. He earned his BA at Lebanon Valley College in 1935, and then entered Princeton Theological Seminary, gaining his ThB in 1938. He stayed on at Princeton as Teaching Fellow in New Testament Greek. The following year, he was ordained in the United Presbyterian Church. In 1940, he earned his MA and became Instructor in New Testament. Two years later, Metzger completed his PhD, also at Princeton Seminary.
In 1944, Metzger married Isobel Elizabeth Mackay, daughter of the third president of the Seminary, Alexander Mackay. That same year, he was promoted to Assistant Professor. By 1948, he was associate professor, and became full professor in 1954. In 1964, Metzger's chair was named George L. Collord Professor of New Testament Language and Literature.
In 1971, Metzger was elected president of both the Studiorum Novi Testimenti Societas and the International Society of Biblical Literature. The following year, he became the first president of the North American Patristic Society. Metzger was visiting fellow at Clare Hall, Cambridge, in 1974 and at Wolfson College, Oxford, in 1979. He retired from teaching in 1984.
In 1994, Bruce Metzger was honoured with the Burkitt Medal for Biblical Studies by the British Academy. He was awarded honorary doctorates from Lebanon Valley College, Findlay College, University of St Andrews, the University of Münster, and Potchefstroom University.
Metzger edited and provided commentary for many Bible translations and wrote dozens of books. He was one of the editors of the United Bible Societies' Greek New Testament, the starting point for nearly all translations of the New Testament in recent decades. He is noted for his work on the Revised Standard Version, the Reader's Digest Bible (a condensed version of the RSV), and for chairing the Committee of Translators for the New Revised Standard Version.
A Textual Commentary on the Greek New Testament (2nd ed.) (2006) | On CD-ROM
Breaking the Code: Understanding the Book of Revelation – Participant's Guide | Leader's Guide | Planning Kit
The Text of the New Testament (4th ed.) (2005)
Reminiscences of an Octogenarian (1997)
The Text of the New Testament (4th ed.) (2005)
The New Testament: Its Background, Growth, and Content (3rd ed.) (2003)
The Bible in Translation: Ancient and English Versions (2001)
The Oxford Guide to People and Places of the Bible (2001)
Lexical Aids for Students of New Testament Greek (1999)
The Canon of the New Testament: Its Origin, Development, and Significance (1997)
The Oxford Companion to the Bible (1993)
An Introduction to the Apocrypha (1977)
YYY (????)
YYY (????)
YYY (????)
YYY (????)
NEW OR USED FROM AMAZON:
YYYY (????)
YYYY (????)
YYYY (????)
YYYY (????)
YYYY (????)
YYYY (????)
YYYY (????)
YYYY (????)
Return to Recommended Authors

HOME Newsletter Shallows Depths Studylinks DS Bookstore
About DS Contact DS
© 2007 DeeperStudy.com | Steve Singleton, All Rights Reserved